Hazard Classes & Pictograms
When a material is listed as a hazardous product, the manufacturer must treat the product according to WHMIS regulations. Part of this regulation is to classify it according to a hazard class.
WHMIS 2015 has many hazard classes. The class describes the different types of hazards. For example, Flammable Solids is a hazard class. Each hazard class is further split into categories or subcategories (Types A, B, C, D, E and F). For example, Category 1 is always more hazardous than Category 2 or 3.
The hazard class and category are a guide to the:
The hazard pictogram that appears on the supplier label and SDS is very important. It provides you with information about the primary hazard posed by a product. It also indicates whether the product is dangerous to touch or breathe, is easily combustible, unstable or reacts negatively (when mixed) with other materials. Look for a pictogram that is framed by a red square set on a point. The exception is the biohazard pictogram which is in a round black border.
Please contact us to discuss your WHMIS training needs
Please complete the form below and we will get back to you shortly.
HR Proactive Inc. offers several options
to train your workers quickly, easily
and cost-effectively.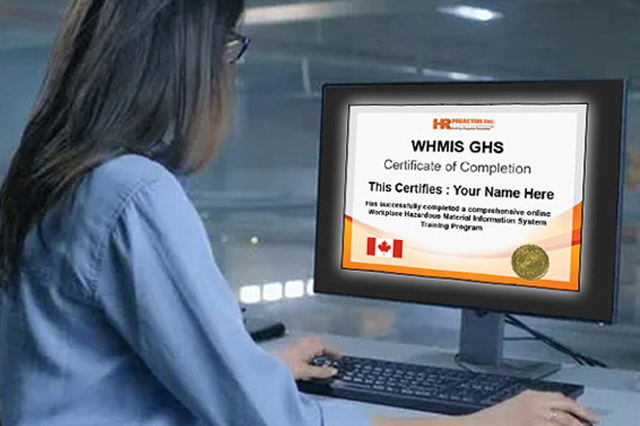 Custom Training
We will design & deliver content specific to your organization.
HR Proactive Inc. is here to assist you with your company's training needs.
Contact us today. We can help.