SCORM WHMIS Training Online
Developed by HR Proactive Inc., our course material presents an interactive design for education and training under Workplace Hazardous Materials Information System (WHMIS). The goal of our online WHMIS GHS eLearning program is to give participants knowledge and information which they can understand and apply in the workplace to safely handle, store and dispose of hazardous materials.
Our WHMIS online eLearning program features a built-in review WHMIS test. Those who score at least 80% on the final test will be able to print a WHMIS Certificate of Completion.
At HR Proactive Inc., the real value proposition is giving our customers a choice. We can provide them with a robust platform or we can provide them with compelling content that works in their own LMS.
What are the benefits of using a WHMIS SCORM compliant training course?
Please contact us for pricing on our SCORM Products
HR Proactive Inc. offers several options
to train your workers quickly, easily
and cost-effectively.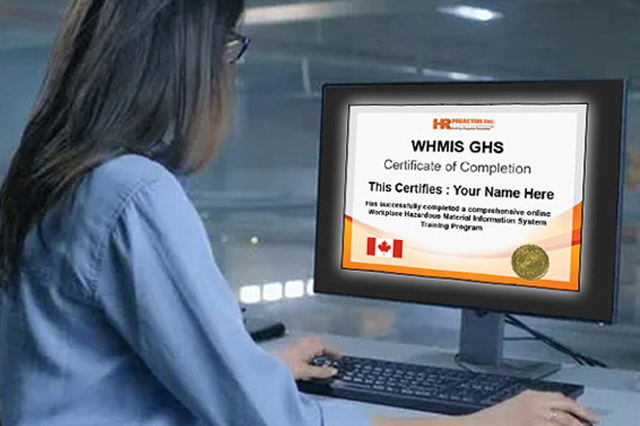 Custom Training
We will design & deliver content specific to your organization.
HR Proactive Inc. is here to assist you with your company's training needs.
Contact us today. We can help.
WHMIS GHS Elearning Program
Our online WHMIS GHS eLearning Program is created specifically for those in Canadian workplaces who have already had some training on the basic concepts of the Workplace Hazardous Materials Information System (WHMIS) or to provide training to new hires. This online eLearning training program allows participants to quickly refresh their WHMIS understanding.
The WHMIS GHS online eLearning training program will have participants review WHMIS basics and Canadian legislation on the global harmonization system, hazard classes and their WHMIS pictograms, labels and safety data sheets (SDSs) and learn key tips for working safely with hazardous materials.
Note that this online eLearning training program does not cover certain special issues and requirements that may apply to laboratories or workplaces where chemicals are produced, formulated or packaged.
If you have any questions or have a custom request, please call to speak with a member of our team.
Host WHMIS Training on our LMS or Upload WHMIS SCORM program and Test to your HRIS system.